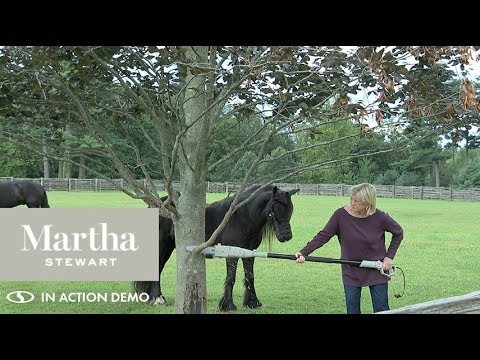 Martha Stewart MTS-PS10-MBK Electric Pole Saw | 10-Inch | 7-Amp (Black)
MTS-PS10-MBK
MARTHA STEWART 10-Inch 7-Amp Electric Pole Saw
Trim your tallest trees with ease with the 10-Inch 7-Amp Electric Pole Saw by Martha Stewart.
With the ability to extend your reach up to 15-feet, you'll be able to stay safely grounded while you trim overgrown trees, overhanging limbs, and even logs, brush, and branches up to 9.5-inches thick. An adjustable ergonomic handle provides the optimum angle to take the danger and difficulty of trimming those hard-to-reach boughs. Reliably start up every time with the simple push of a button and wave goodbye to those unpredictable starters and costly tune-ups. Equipped with a durable, eco-friendly electric motor, this lightweight, easy-to-handle pole saw will cut the smoke and fumes out of your tree maintenance and make your yard and garden the best-looking landscape on the block.
Features
Durable 10-inch cutting bar and chain with automatic lubrication
Ideal for cutting overhanging limbs and thin logs up to 9.5-inches thick
Telescoping pole extends to 8.7-feet to provide up to 15-feet of overhead reach
Adjustable ergonomic handle
Eco-friendly 7-amp electric motor
Weighs only 7.7 lbs for easy control and maximum maneuverability
Comfortable, non-slip foam grip
Oil Tank Capacity (fl oz)
+ What chain does my Martha unit use?
+ What bar does my Martha unit use?
+ How do I clean debris/residue from inside the unit?
+ What type of oil does my unit take?
+ Should I wear safety goggles when using my unit?

MTS-PS10-MBK
Martha Stewart MTS-PS10-MBK Electric Pole Saw | 10-Inch | 7-Amp (Black)