HOME
/
Snow Blowers
/ Snow Joe iON 40-Volt 4.0-Ah 13-Inch Cord...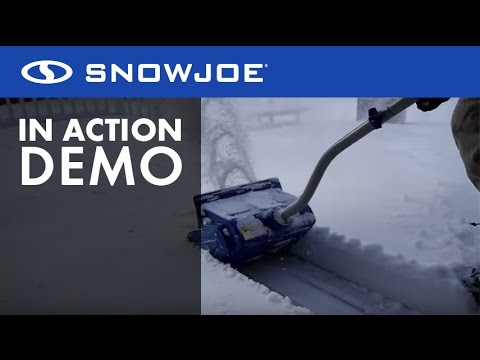 Snow Joe iON 40-Volt 4.0-Ah 13-Inch Cordless + Electric Hybrid Snow Shovel
iON13SS-HYB

1

Item Added to Cart
Continue Shopping
+$0.00
Cart Total:
$
Taxes are calculated during checkout.
You may also be interested in these items...
POWER TRIP! What happens when you cross battery with electric? Something completely revolutionary! Introducing the world's first truly hybrid electric OR battery powered winter weather snow shovel. Declare your independence from the grid and go offline. Snow Joe's exclusive hybrid technology allows you to quickly and easily switch from powered when you need it – to unplugged when you don't – to blast your way past the limits of the extension cord and dare to go where no electric has gone before.

A dusting on the deck? The 40 V 4.0 Ah battery's great for a quick sweep or for those areas where the cord won't cut it. Drop it in and go! More snow in the driveway? Simply plug it in, turn it on, and dig out. The only real difficulty you'll have is deciding whether to choose battery or electric. Best of all, hybrid technology means never having to run out of power, or options, when winter strikes. Exercise your freedom of choice. Make the switch to hybrid.
Features
Exclusive hybrid technology – choose corded or cordless operation
Ideal for quick, easy snow pickups on decks, steps, patios, sidewalks and driveways
40 V 4.0 Ah EcoSharp® rechargeable lithium-ion battery provides up to 52 minutes of whisper-quiet run time
2-blade paddle auger throws snow up to 25 feet; cuts 13 in. wide x 6 in. deep
15-amp brushless motor moves up to 300 lbs of snow per minute
Ergonomic, lightweight design (only 14.5 lbs) with adjustable back-saving handle
ETL approved; Full 2-year warranty; Includes battery and Energy Star certified charger
Certifications and Listings
Maximum Extension Cord Length (ft.)
Minimum Rated Extension Cord
Plowing Capacity (lbs/min)
Run-time per Charge (mins)
+ What is the purpose of the cord lock restraint hook?