HOME
/
Snow Blowers
/ Snow Joe iON18SB-HYB Hybrid Single Stage...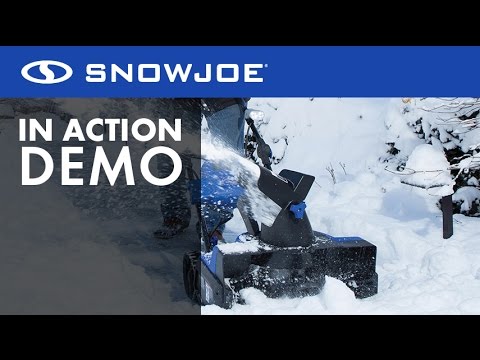 Snow Joe iON18SB-HYB Hybrid Single Stage Snow Blower | 18-Inch · 40 Volt · 13.5 Amp | Brushless
iON18SB-HYB

1

Item Added to Cart
Continue Shopping
+$0.00
Cart Total:
$
Taxes are calculated during checkout.
You may also be interested in these items...
DUAL DYNAMO, REVOLUTIONARY RECHARGEABLE! Just a few short years ago, Snow Joe® took the world by storm with their innovative line of eco-friendly, battery-powered snow blowers. Now they're back in a BIG way again with the iON18SB-HYB. Ideal for clearing snow from sidewalks, mid-sized driveways and walkways, the Snow Joe® iON18SB-HYB is the revolutionary new addition to the Snow Joe® iON arsenal to provide your choice of corded OR cord-free operation.

Powered by EcoSharp® technology, Snow Joe's innovative, interchangeable rechargeable lithium-ion battery system, the iON includes a 40 V battery to deliver over 50 minutes* of whisper-quiet runtime with zero carbon emissions for cleaner air. And only iON lets you switch from a single 40 V to corded electric for limitless snow-shredding power. This state-of-the-art cordless dynamo is also engineered with a powerful 13.5-amp brushless motor, and starts instantly with a simple push of a button.

Equipped with a heavy-duty 2-blade rubber auger, the iON plows through up to 500 pounds of snow per minute, clearing a path 18-inches wide by 8-inches deep with each pass. Plus, the scraper bar at the base of the unit lets you clear right to the ground without damaging your deck or pavement. Featuring a 180° adjustable chute to direct the snow stream up to 20 feet away. And for nighttime snow removal, the iON comes equipped with an integrated 3 W LED headlight for increased nighttime visibility.
*Initial no-load voltage, when fully charged, peaks at 40 volts; nominal voltage under typical load is 36 volts
Features
Ideal for quick snow pickups on mid-sized driveways and walkways
Hybrid Technology: choose from included 40 V 4.0 Ah EcoSharp® rechargeable lithium-ion battery or corded 13.5-amp electric power
Powerful 13.5-amp motor moves up to 500 lbs of snow per minute
Steel auger with 2 rubber blades cuts a path 18 in. wide by 8 in. deep without damaging surface
8 in. all-terrain wheels for maximum maneuverability
180° adjustable chute throws snow up to 20 ft
3 W LED headlights provides increased visibility for nighttime snow removal
ETL approved; Full 2-year warranty; Includes battery and Energy Star certified charger
Certifications and Listings
Chute Rotation Turning Radius (Deg)
Maximum Extension Cord Length (ft.)
Minimum Extension Gauge (100ft.)
Minimum Extension Gauge (25ft.)
Minimum Extension Gauge (50ft.)
Minimum Rated Extension Cord
Plowing Capacity (lbs/min)
Snow Equipment Product Type
Single Stage Hybrid Cordless
+ How long does the battery for my Snow Joe iON18SB-HYB Snow Blower take to charge?
+ How does a brushless motor compare to a traditional motor with brushes?
+ How long will the battery in my Snow Joe iON18SB-HYB Snow Blower run for?
+ What is the best measurement of a lithium-ion battery pack's performance? How does the Snow Joe + Sun Joe EcoSharp 40 V 4.0 Ah lithium-ion battery pack (model iBAT40) compare to other lithium-ion battery packs in the market?
+ Can the EcoSharp 40 V 4.0 Ah battery pack (model iBAT40) and the EcoSharp PRO 40 V 5.0 Ah battery pack (model iBAT40XR) be used interchangeably with all iON tools?
+ How do you charge the battery?
+ How to achieve greater throw distance? / My iON18SB-HYB is not throwing the snow very far.
+ How do I assemble my iON18SB-HYB Hybrid Snow Blower?
+ I've pressed the switch button, then squeezed the handle, but my Snow Joe iON18SB-HYB does not power on. What should I do?
+ What is the purpose of the cord lock restraint hook?