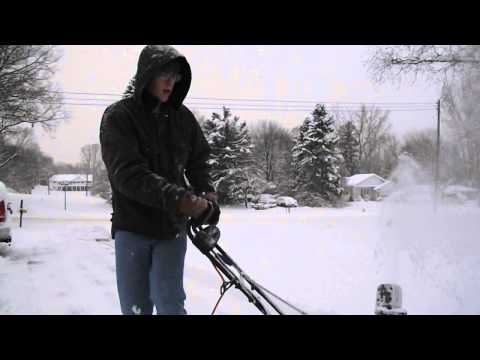 Snow Joe SJ622E Electric Single Stage Snow Thrower | 18-Inch | 15 Amp Motor
SJ622E

1

Item Added to Cart
Continue Shopping
+$0.00
Cart Total:
$
Taxes are calculated during checkout.
You may also be interested in these items...
MORE POWER! Make quick work out of the heavy white stuff nature throws your way with our most powerful electric snow thrower, the Snow Joe Ultra SJ622E. Boasting a 15-amp motor, this snow-throwing dynamo can move up to 720 pounds of snow per minute! Its durable, 4-blade rotor, constructed of heavy-grade steel, cuts a full 18-inch wide by 10-inch deep swath of snow with each pass. Easy-glide wheels make the Snow Joe® Ultra super easy to turn and maneuver. The scraper blade at the base of the unit efficiently scrapes the snow clear to the ground without damaging your deck or pavement. Equipped with a 180º adjustable discharge chute, the Ultra SJ622E throws snow up to 25 feet away in the direction you want it to go. An on-board chute clean-out tool is also included to keep your chute clear and operational throughout your entire snow removal session.
Delivering the performance of a gas machine with the convenience of electric power, the Ultra SJ622E is the smart, eco-friendly choice for snow removal this winter. No gas, no oil, no maintenance, no fuss! GET EQUIPPED® with the Snow Joe® Ultra and clear out fast from tough winter messes. ETL approved; Full 2-year warranty.
Features
Ideal for clearing snow off mid-to-large sized driveways and walkways
No gas, oil or tune-ups make it effortless to start and maintain
Powerful 15-amp motor moves up to 720 lbs of snow per minute
4-blade steel auger cuts 18 in. wide by 10 in. deep with each pass
180° adjustable directional chute throws snow up to 25 ft
Universal chute clean-out tool included to help remove snow build-up
Compact wheels for easy maneuverability
ETL approved; Full 2-year warranty
Certifications and Listings
Chute Rotation Turning Radius (Deg)
Maximum Extension Cord Length (ft.)
Minimum Extension Gauge (100ft.)
Minimum Extension Gauge (25ft.)
Minimum Extension Gauge (50ft.)
Plowing Capacity (lbs/min)
Snow Equipment Product Type
Single Stage Corded Electric
+ How loud is my Snow Joe Ultra?
+ What is the best way to clear a path with the Snow Joe Ultra?
+ What depths will my Snow Joe clear?
+ What safety precautions should I take when operating the Snow Joe Ultra?
+ I've pressed the switch button, then squeezed the handle, but my Snow Joe Ultra does not power on. What should I do?
+ Where and when should I use my Snow Joe Ultra?
+ Does the Snow Joe Ultra require assembly?
+ Does the Snow Joe Ultra run on gas?