HOME
/
Pressure Washers
/ Sun Joe SPX2000 Electric Pressure Washer...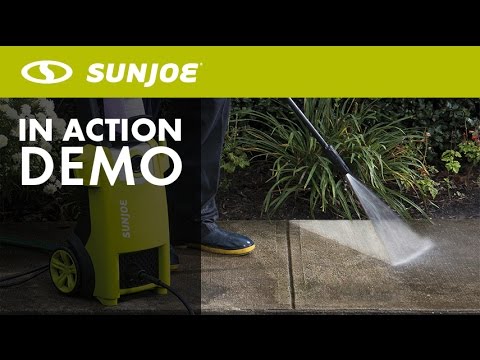 Sun Joe SPX2000 Electric Pressure Washer | 1740 PSI 1.59 GPM 12.5-Amp
SPX2000
1

Item Added to Cart
Continue Shopping
+$0.00
Cart Total:
$
Taxes are calculated during checkout.
You may also be interested in these items...
UNDER PRESSURE. Tackle your home, outdoor and auto cleaning projects with the Sun Joe SPX2000. Packed with a powerful 1500-Watt/12.5-amp motor, the SPX2000 generates up to 1740 PSI/1.59 GPM to make quick work out of stubborn debris. A 34-inch extension wand extends your cleaning reach and its adjustable nozzle allows you to go from an intense, zero-degree pinpoint spray to a more gentle, 45-degree fan spray.
The SPX2000 electric pressure washer is equipped with a 30.4 fl oz (0.9-liter) on-board detergent tank, perfect for blasting gunk off your windows, cars, RV's, boats, ATV's, trailers, siding, barbecues, and more. Plus the rear wheels make it easy to move Pressure Joe from one cleaning task to the next. Additional safety features on the unit include a trigger lock-off switch with TSS (total stop system) technology and a complete on/off switch. The SPX2000 is backed by a full two-year warranty and is CSA listed.
Watch us open the box and assemble the SPX2000. To view this assembly video, click here: Open The Box SPX2000 Demo.
Features
Ideal for medium-to-heavy duty cleaning jobs
Includes a 34-inch extension wand, 20-foot high pressure hose, 35-foot power cord with GFCI protection, garden hose adaptor, needle clean out tool
Adjustable spray nozzle easily controls water pressure
Powerful 12.5-amp/1500-Watt motor generates up to 1740 PSI/1.59 GPM
TSS (Total Stop System) – Automatically shuts off the pump when trigger is not engaged to save energy and prolong pump life
On-board 0.9 L detergent tank for extra cleaning power
CSA approved; Full 2-year warranty
Maximum Flow Rate (gallons/min.)
Pressure Washer Power Type
Water Inlet Pressure (max)
Water Inlet Temperature (max)
+ Why does the motor not start?
+ Do you make a brass connector for my pressure washer?
+ Does my SPX2000 pressure washer have a downstream or upstream detergent injector?
+ How do I winterize my pressure washer?
+ What kind of pump and motor does my unit have?
+ Why isn't my unit reaching high pressure?
+ Why does the garden hose connection adapter leak?
+ Why does the pressure vary from high to low?
+ Why does the motor buzz and fail to run?
+ Why is there no detergent coming out?
+ My pressure washer is leaking from where the garden hose goes into the pressure washer.
+ How do I assemble my SPX2000 Pressure Washer?
+ Can my unit be connected to a portable water supply?
+ What is the life expectancy of the pump found in my unit?