HOME / Chain + Pole Saws / Sun Joe 18-Inch 14-Amp Electric Chain Sa...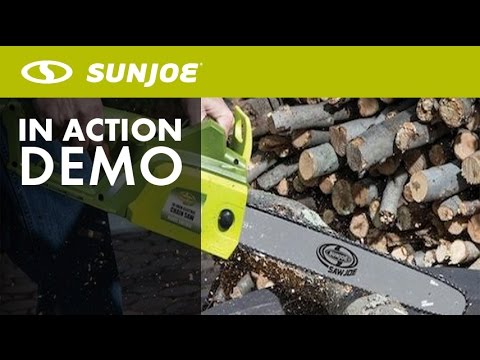 Sun Joe 18-Inch 14-Amp Electric Chain Saw
SWJ701E
A CUT ABOVE THE REST. The Sun Joe® SWJ701E 18-inch 14-amp electric chain saw combines power, performance and precision into one easy-to-use, reliable cutting tool.
PREMIUM POWER. Packed with a powerful 14-amp motor that starts instantly with the push of a button, the Sun Joe SWJ701E makes quick work out of thick limbs, firewood, logs and branches. Powered electrically, the eco-friendly Sun Joe SWJ701E performs reliably without having to mess with gas or oil or pollute the environment with toxic hydrocarbon emissions.
OPTIMAL PERFORMANCE Getting the job done is easy with the Sun Joe SWJ701E. Its lightweight design (only 9.7 lbs) and adjustable ergonomic handle work together to maximize comfort and minimize fatigue during use. Safety features include a hand guard with kickback brake and a switch to prevent accidental starting.
Features
Best use: limbs, firewood and logs
Powerful 14-amp motor tackles tough cutting jobs
18-inch self-lubricating Oregon bar and chain
Hand guard with kickback brake function
Lightweight design with ergonomic handle maximizes user comfort
CSA approved; Full 2-year warranty
Maximum Cut Diameter (in.)
Certifications and Listings
+ How loud is my Saw Joe SWJ701E?
+ What chain does my unit use?
+ My chain saw does not start and the chain does not move.
+ What bar does my unit use?
+ How loud is my Saw Joe SWJ701E?
+ What is the purpose of the cord lock restraint hook?
+ How do I adjust the chain's tension?
Sun Joe 18-Inch 14-Amp Electric Chain Saw
SWJ701E
Description
Specifications
Reviews
FAQs
Parts