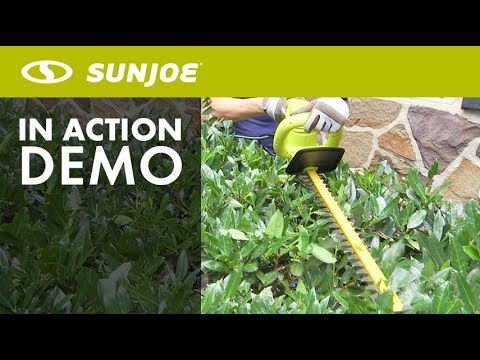 Sun Joe HJ22HTE Electric Hedge Trimmer | 22-Inch | 3.5 Amp
HJ22HTE

1

Item Added to Cart
Continue Shopping
+$0.00
Cart Total:
$
Taxes are calculated during checkout.
You may also be interested in these items...
FIT + TRIM: GIVE YOUR YARD A MAKEOVER! Are your shrubs out of shape? Do your hedges need a haircut? Count on Sun Joe® to put your yard back in top condition, with reliable results you can see every time.
Introducing the Sun Joe® HJ22HTE 22-Inch Electric Hedge Trimmer. Sun Joe's® potent 3.5-amp motor and dual-action 22" stainless steel blades provide the power and precision you demand to tackle your toughest shrubbing tasks. Lightweight, sleek, ergonomic and easy to maneuver at just 5 lbs. It will quickly become your go-to tool to cut quickly and cleanly through thick hedges and shrubs. Eco-friendly and electric, there's never a need to mess with gas or oil - or worry about maintenance, tune-ups or toxic emissions. And, Sun Joe's® built-in dual-handed safety switch eliminates dangerous accidental starts for enhanced user safety.
For maximum results with minimum strain, count on Sun Joe® to whip your yard back into tip-top shape.
Features
Powerful 3.5 Amp motor for superior cutting performance
Pre-hardened, rust resistant 22" stainless steel blades
Full wrap-around front handle
Dual-handed safety switch prevents accidental starting
Light-weight: just 5 lbs
Includes blade cover
For trimming, shaping and sculpting of bushes, shrubs and hedges
ETL approved; Full 2-year warranty
+ How loud is my Hedger Joe HJ22HTE?