HOME / Trimmers, Hedgers + Tools / Sun Joe 3-Amp 9.45-Inch Electric Grass T...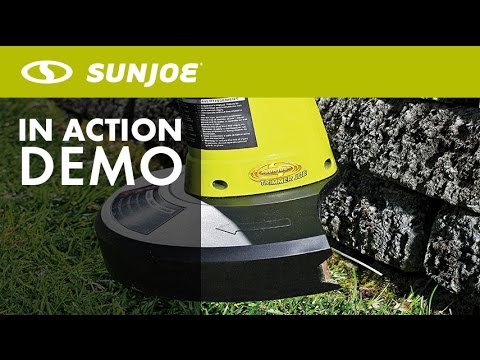 Sun Joe 3-Amp 9.45-Inch Electric Grass Trimmer
TRJ609E
Keep your lawn fit and trim this spring with the Sun Joe® Grass Trimmer. The TRJ609E 3-amp electric trimmer is a must-have for the do-it-yourselfer. Sun Joe® is your go-to garden tool for maintenance trimming after mowing. This electric trimmer only weighs 3.3 pounds, and Sun Joe®  is super lightweight and features an ergonomic handle to maximize comfort and minimize fatigue during use. Its compact design makes it ideal for cutting grass in tight spaces especially around small yards, town house lots, patios, stones, flowerbeds and walkways.
Powered electrically, this grass trimmer starts instantly and reliably with the push of a button without having to mess with gas or oil or worry about maintenance, tune-ups or toxic emissions. Simply plug in your Sun Joe®, fasten your extension cord to the cord lock, squeeze the push button on the handle, and watch this grass trimmer's powerful 3-amp motor make quick work of your overgrown grass, cutting a 9.45-inch swath with each pass.
The Sun Joe® grass trimmer bump feed spool system puts you in control over how much line you use. Gently tap Sun Joe's®  head on the ground to advance the cutting string and continue trimming. Trimming down is easy with the Sun Joe® 3-amp electric trimmer—your smart solution to keeping your lawn in tip-top shape this spring.
Features
Ideal for trimming around small yards, town house lots, flower beds, walkways, patios and stones
Lightweight and compact – only 3.3 lbs
Powerful 3-amp motor cuts a 9.45-inch swath in one pass
Instant start – Trimmer Joe powers up with the push of a button
Ergonomic handle maximizes comfort and minimizes wrist fatigue
Bump feed spool advances cutting string as needed
ETL Approved; Full 2-Year Warranty
Certifications and Listings
Maximum Cut Diameter (in.)
+ What is the purpose of the cord lock restraint hook?
Sun Joe 3-Amp 9.45-Inch Electric Grass Trimmer
TRJ609E
Description
Specifications
Reviews
FAQs
Parts