HOME
/
iON Cordless Tool System
/ Sun Joe iONBV Cordless 3-in-1 Blower | 2...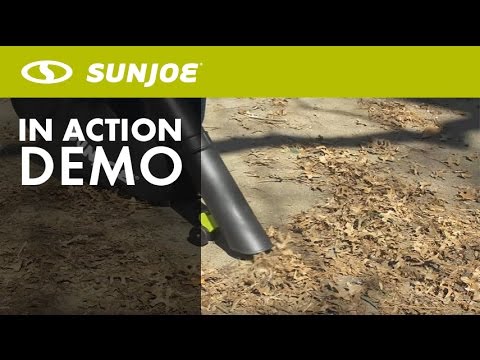 Sun Joe iONBV Cordless 3-in-1 Blower | 200 MPH · 4 Ah | Brushless Motor · Vacuum · Mulcher
iONBV

1

Item Added to Cart
Continue Shopping
+$0.00
Cart Total:
$
Taxes are calculated during checkout.
You may also be interested in these items...
WHEN LIFE GIVES YOU LEAVES, MAKE CLEANUP A BREEZE! Back-breaking lawn and leaf cleanups are a thing of the past with the Sun Joe iONBV, the revolutionary rechargeable blower/vacuum/mulcher. Lightweight, sleek and powerful, the 40 volt Lithium-Ion battery-powered blower packs the power of a hurricane into the palm of your hand to make your yard work a breeze. With up to 45 minutes of runtime, it's just right for light-duty household applications like sweeping porches, patios, walkways, decks and garages – and even light snow! Six variable speed settings tailor the wind to suit the task with the flick of a switch. Featuring an interchangeable tube design and a hefty 16 gallon collection bag, iONBV easily converts from a robust 200 mph blower to a mighty mulcher with a superior 17:1 reduction ratio.
Features
3-In-1 design: blower, vacuum and mulcher for fast leaf cleanup
Includes 16 gallon vacuum bag
Air speed (max) 200 mph
Speed settings: 6
Quick + easy conversion: go from blowing to vacuuming in seconds!
17:1 reduction ratio: high impact-resistant impeller shreds leaves up to 1/17th their original size
ETL approved; Full 2-year warranty

Certifications and Listings
+ How do you charge the battery?
+ How can I make the bag last longer?
+ What is the best measurement of a lithium-ion battery pack's performance? How does the Snow Joe + Sun Joe EcoSharp 40 V 4.0 Ah lithium-ion battery pack (model iBAT40) compare to other lithium-ion battery packs in the market?
+ How do I use my Sun Joe Gutter Cleaning Blower Attachment?
+ How do I attach my Sun Joe Gutter Cleaning Blower Attachment?
+ How many miles per hour (MPH) does the blower setting on my iONBV produce?
+ How many speed settings does my iONBV have?
+ How many cubic feet per minute (CFM) does the vacuum setting on my iONBV move?
+ What are the best uses for my iONBV unit?
+ What is the reduction ratio of the mulch produced by my iONBV?
+ How long does the battery for my Sun Joe iONBV take to charge?
+ How long will the battery in my Sun Joe iONBV 3-in-1 Blower/Vacuum/Mulcher run for?