HOME
/
Cordless Sun Joe
/ Sun Joe iON16LM-LT-HYB-SJG Hybrid Lawn M...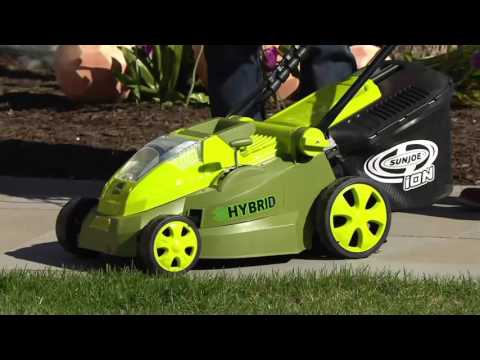 Sun Joe iON16LM-LT-HYB-SJG Hybrid Lawn Mower | 16 inch · 40V
iON16LM-LT-HYB-SJG
MOW POWER TO YA! What happens when you combine a battery pack with an electric plug? You get pack plug power that's completely revolutionary! Declare your independence from the grid and gain the freedom to go offline. Snow Joe's exclusive hybrid technology allows you to switch from electric power when you need it – to unplugged when you don't – to blast your way past the limits of the extension cord and dare to go where no electric mower has gone before. Ideal for small to mid-sized lawns, the iON16LM-LT-HYB-SJG starts instantly with a simple push of a button and its ergonomic handle maximizes user comfort during use. Equipped with a durable steel blade that cuts with precision, the iON16LM-LT-HYB-SJG mows a 15-inch wide path in a single pass. Its compact design features rugged front and rear all-terrain wheels that make it easy to maneuver in tight spaces. Quickly adjust the cutting height of your grass with the 6-position height adjustment lever, which tailors cutting heights from 1.18 inches up to 3.15 inches. The 9.25-gallon grass bag conveniently detaches to dispose of grass clippings. Or, go off the grid by simply switching to battery power and the iON16LM-LT-HYB-SJG utilizes the most advanced lithium-ion technology to cut your lawn with zero carbon emissions for cleaner air and a greener environment. How is that for eco friendly efficiency?
Hybrid technology means never having to run out of power, or options, when the grass is growing. Exercise your freedom of choice. Make the switch.
Features
Hybrid Technology – choose corded or cordless operation
Ideal for mid-sized lawns
40 V 2.5 Ah EcoSharp® rechargeable lithium-ion battery
6.5-amp electric
Cutting width: 15" (38 cm)
6-position height adjustment: 1.18 in. – 3.15 in. (30 mm – 80 mm)
Grass bag capacity: 9.25 gal (35 l)
Rotor: 15 in. (38 cm) steel blade
ETL approved; Full 2-year warranty; Includes battery and charger
Certifications and Listings
Maximum Cutting Height (in.)
Maximum Extension Cord Length (ft.)
Minimum Cutting Height (in.)
Minimum Rated Extension Cord
+ Will this unit come with a charger?
+ What is the best measurement of a lithium-ion battery pack's performance? How does the Snow Joe + Sun Joe EcoSharp 40 V 4.0 Ah lithium-ion battery pack (model iBAT40) compare to other lithium-ion battery packs in the market?
+ How loud is my Sun Joe iON16LM-LT-HYB-SJG?
+ How long does the battery for my Sun Joe iON16LM-LT-HYB-SJG Lawn Mower take to charge?
+ How does a brushless motor compare to a traditional motor with brushes?
+ What battery is my iON unit compatible with?
+ How long does the battery for my Sun Joe iON16LM-LT-HYB-SJG Lawn Mower run for?
+ Does my iON16LM-LT-HYB-SJG come with a battery and charger?