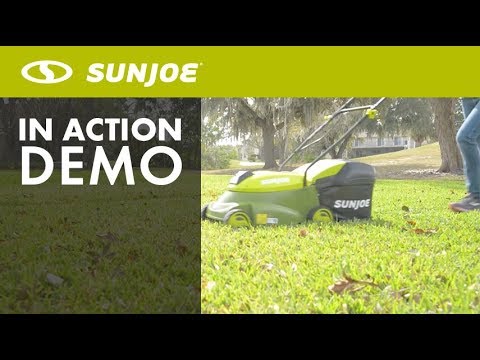 Sun Joe MJ401C-XR-SJB Cordless Lawn Mower | 14 inch | 28V | 5 Ah | Brushless Motor (Blue)
MJ401C-XR-SJB

1

Item Added to Cart
Continue Shopping
+$0.00
Cart Total:
$
Taxes are calculated during checkout.
You may also be interested in these items...
MOW WITH JOE!  Ditch the cord and gas, and cut the grass with MJ401C-XR-SJB, the completely cordless counterpart of Sun Joe's best-selling MJ401E electric mower. Perfect for small to medium lawns, the eco-friendly, battery-powered mower's durable steel blade cuts a crisp 14" wide path with precision in a single pass, and features convenient 3-position manual height control to quickly tailor your turf to just the right height. When you're ready, simply insert the key, press the safety switch, squeeze the trigger and go! Collect the clippings with the 10.6 gallon bag, and detach for quick and easy disposal. Plus, MJ401C-XR-SJB is driven by a long-life, peak performance rechargeable 28-volt 5-amperage-hour lithium-ion battery, and mows over 12,000 sq. ft on a single charge, for the ultimate in cordless convenience. And when the work day is done, simply plug in and power up. Blast past the limits of the extension cord with cordless power and performance - and Go With Joe: the MJ401C-XR-SJB 28-volt 5-amp 14-inch Cordless Lawn Mower from Sun Joe. Get Equipped.
Features
Best use; small to mid-sized lawns
Built-in push-button LED battery level indicator
Removable safety key prevents accidental starts
Durable steel blade mows a 14 in. (35.6 cm) wide path
Peak performance 28 V 5 Ah rechargeable lithium-ion battery for up to a quarter acre of continuous mowing per charge
Detachable 10.6 gal (40 l) grass catcher for easy disposal
Tailor cutting height with 3-position manual height adjustment
ETL approved; Full 2-year warranty
23.1 lbs (Battery installed)
Charging Cable Length (ft.)
Maximum Cutting Height (in.)
Minimum Cutting Height (in.)
+ How do I adjust the cutting height on my Sun Joe Mow Joe MJ401C-XR Lawn Mower?
+ How do I know if the mower blade on my MJ401C-XR needs to be replaced?
+ How do I go about replacing mower blade on my MJ401C-XR after determining it needs to be replaced?
+ Will this unit come with a charger?
+ What if I need to service my Sun Joe Mow Joe Lawn Mower?
+ How long does it take to charge my MJ401C-XR lawn mower? & how long will it last?