HOME / Trimmers, Hedgers + Tools / Sun Joe SwitchStik 4-in-1 Interchangeabl...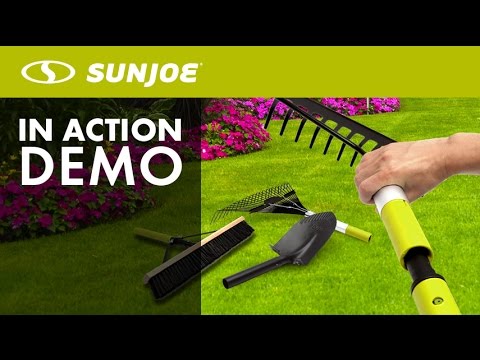 Sun Joe SwitchStik 4-in-1 Interchangeable Tool System
SJ-HS101
GET A HANDLE ON YOUR GARDEN CHORES. SUN JOE SwitchSTIK's innovative, 5-piece interchangeable tool system lets you quickly swap tasks with the aid of the unique detachable pole handle to go from raking leaves to digging up daisies, to sweeping the garage or raking rocks in the garden - with the flick of a switch. Simply insert the locking tip into the tool head of your choice; disconnect and detach for space-saving, wall-mounted storage. Switch up your lawn and garden routine with SUN JOE SwitchSTIK for the one complete tool system designed to tackle all your yard care tasks, season after season.
Features
Durable fiberglass shaft and locking tip with stainless steel ball bearings for secure tool connection
Simple, one click tool assembly to connect - and release!
Ergonomic design for ease of use
Included hanging hardware keeps your tools stored safely and securely off the garage floor
Includes 48 in. fiberglass SwitchSTIK handle, steel blade shovel, wooden push broom, leaf rake, garden rake storage system
Sun Joe SwitchStik 4-in-1 Interchangeable Tool System
SJ-HS101
Description
Specifications
Reviews