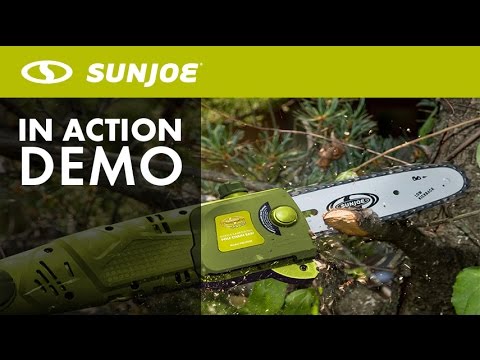 Sun Joe SWJ802E-GRY-RM Electric Multi-Angle Pole Chain Saw | 8 inch | 6.5 Amp | Grey (Refurbished)
SWJ802E-GRY-RM

1

Item Added to Cart
Continue Shopping
+$0.00
Cart Total:
$
Taxes are calculated during checkout.
You may also be interested in these items...
LET GRAVITY DO THE WORK™  The Sun Joe® SWJ802E-GRY-RM pole chain saw takes the danger and difficulty out of trimming your overgrown trees. At only 7.9 lbs, the Sun Joe SWJ802E-GRY-RM is super lightweight and easy to handle. Stand safely on solid ground and extend its telescoping pole to gain up to 15 feet of overhead reach.
Powered by a 6.5-amp motor, the SWJ802E-GRY-RM can handle the most stubborn tree limbs up to 7.5-inches thick. This pole chain saw features an 8-inch Oregon bar and chain with an auto-oiler to keep the bar and chain fully lubricated during use. Unique to SWJ802E-GRY-RM is a multi-position adjustable head, which cuts from 0º to 30º angles.
Unlike gas-powered tools, the Sun Joe pole saw is powered electrically, so you'll reliably power up with the push of a button without having to deal with smoke, fumes, unpredictable starters or costly tune-ups. Plus, SWJ802E-GRY-RM comes equipped with a built-in safety switch to prevent accidental starting. CSA- approved; 
To watch us open the box and assemble the SWJ802E, click here: Open The Box SWJ802E Demo.
To watch us replace the chain saw chain on the SWJ802E, click here: Replace Install SWJ802E Chain Demo.
Features
Refurbished - 90-Day Warranty from Snow Joe LLC.
Ideal for cutting overhanging limbs and thin logs
Telescoping pole extends to 9.4 ft providing up to 15 ft of overhead reach
Multi-position head cuts from 0º to 30º angles
Powerful 6.5-amp motor cuts branches up to 7.5-inches thick
8-inch Oregon cutting bar and chain with automatic lubrication
CSA approved
Certifications and Listings
Maximum Cut Diameter (in.)
+ What is the size of the end nut holding the bar cover on my unit?
+ What type of oil does my unit take?
+ How do I clean debris/residue from inside the unit?
+ What bar does my unit use?
+ What chain does my unit use?
+ How loud is my Saw Joe SWJ802E?
+ How do I assemble my SWJ802E Pole Chain Saw?
+ What are the best uses for my SWJ802E Pole Chain Saw?